THE RETURN OF STAIND Live Stream Review "It's Been Awhile: Live at Foxwoods"
Staind is Back and Putting Their Permanent Mark of Rock and Fucking Roll Again !!!!
Staind steamed their return live show from 2019 from Foxwoods "Live; Its Been Awhile" today… Staind is back and they have not missed a beat! Just putting that on notice!!! Aaron Lewis, lead guitarist Mike Mushok, bassist and backing vocalist Johnny April, and drummer Sal Giancarelli put on one hell of a show from the beginning of their careers, being that they have not put out new music for 9 years…They fucking really now how to make a return! This show was insane!!!…it being a few years old didn't make a shit of difference…they freaking rock the hell out of that show like it was yesterday.
If you get a chance to check it out…You can still see the video, it will be available to watch on-demand through May 4th at 11:59pm EDT
In this show you will see the band go through all the major hits of Staid like "Eye Wide Open" the started the show off and the guys crushed it! It was like they have not ever taken the 5 year hiatus. They are so in tuned with each other that they make it look like it is just another day, Aaron even get relaxed enough to have a smoke as he is singing and takes a few drinks between lyrics. Mike is a beast on the guitar and that shreds like a mad man though out the set.
With Staind, they have so many freaking killer songs it is hard to focus on one or two of their great ones that they played at this show… I mean you have "Fade", "Something to remind you" , "Crawl" and "Paper Wings" and "Raw" all this song are once that if you know Staind and have followed this though out their career, you are going to know all the lyric and sing them out loud, There are a few that if you do not have a soul, you will get chill though your body when listing and singing them. This show had all the things you want and are wanting now in Live music..the energy of the band and the fans…lights and smoke. Music that just makes you feel good and takes you way from all the other bullshit in the world…Music that puts you in your happy place.
The guys ended the show with of the best Staind songs to ever grace the airway, "Its Been Awhile" and "Mudshovel". These two song may have been the two that had put Staind on the map as one of the best rock bands of all time!..These two song are the songs that when you hear them, you know how them within the first two or three notes of the song. They are the iconic song that are stuck in your head for ever when you hear them. This band just has it in their bone to put out great music over and over again, and to play some of the best rock music in 20 years!
Lets hope we hear some new music and see them out on tour in the near future in 2021, We really need to feel this kinda music in our bones again….Music that we can listen to over and over again and never get tired of listening to it…that is staind music!!
Do not forget to check out the preshow as you see the band talk about how they meet and if a tour and new music is coming…Some had hard to answering the question and some just said "Let see what happen"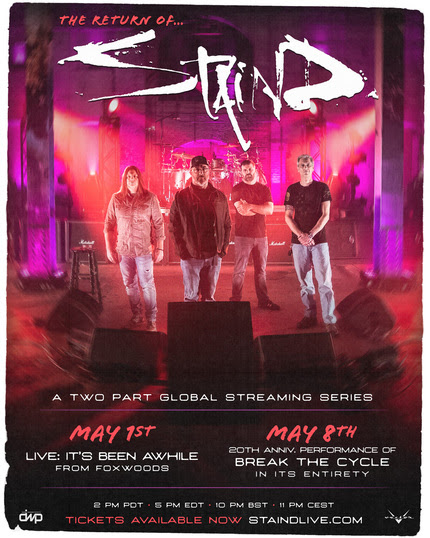 Both global streaming events debut at 2:00 PM PDT / 5:00 PM EDT / 10:00 PM BST / 11:00 PM CEST on their respective days and will be available on-demand for 72 hours. Watch the official trailer for The Return Of Staind: A Two Part Global Streaming Series here: https://www.youtube.com/watch?v=OHznEvJL_nI
Event Details
It's Been Awhile: Live at Foxwoods
Saturday, May 1st at 2pm PDT / 5pm EDT / 10pm BST / 11pm CEST
Video will be available to watch on demand through May 4th at 11:59pm EDT
STAIND will also be performing their iconic multi-platinum 2001 album Break The Cycle in its entirety for a May 8 streaming event, exactly 20 years after the album's release. The 20th Anniversary Of Break The Cycle, Performed In Its Entirety takes place at Mill 1 in Open Square in Holyoke, Massachusetts, bringing the band back to their Western Mass roots. Please note, this is a fully virtual event, with no in-person attendance.
Break The Cycle
Saturday, May 8th at 2pm PDT / 5pm EDT / 10pm BST / 11pm CEST
Video will be available on demand through May 11th at 11:59pm EDT
Purchase tickets for one or both of the STAIND global streaming events at StaindLive.com. Fans can also purchase bundles and VIP experiences, including exclusive merchandise, a custom STAIND guitar autographed by the entire band, and a virtual meet & greet with the band.
Live: It's Been Awhile track listing:
Eyes Wide Open (Live)
Paper Jesus (Live)
Not Again (Live)
Fade (Live)
For You (Live)
Something (Live)
Intro (Live)
Crawl (Live)
Right Here (Live)
Outside (Live)
Paper Wings (Live)
So Far Away (Live)
Raw (Live)
It's Been Awhile (Live)
Mudshovel (Live)
Follow STAIND: